'Passage of White Truths' is a sculpture I created in the mid 1990's that is so relevant to the current circumstances we, here in the USA, find ourselves, that I want to share it with you.  The current social chaos is both scary and uplifting; the status quo change is long overdue.  Many of you are familiar with my encaustic and mixed media art over the last decade, but may not know that for many years, my primary identity was as a ceramic and mixed media sculptress.  Looking through some pieces in my art cache, many are very relevant in today's contentious socio-political climate. Here, I am showcasing three of my sculptural artworks that remain profoundly relevant to current affairs.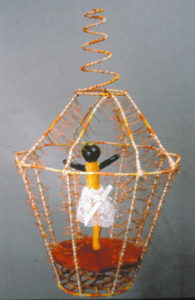 Coming Through Slaughter 
Size: 25" h x 15" w x 15" d          Price: $590
Mixed Media: Wire lampshade skeleton, yarn, slip-cast ceramic carrot, egg and fingers, glazes, lace, bedspring, wood, screw, glue, copper wire.
This female figure, dark in race, seems to celebrate her acceptance into the mainstream world, revealed by the 'coming of age' lacy white dress & celebratory arms; she is, however, confined within a birdcage structure. A cage is a cage; the adornment only adds a layer of illusion, so we doubt the truth of underlying subjugation.  Although one imagines she could slip through the bars, she remains glued within; a result of external and internal expectations, enculturation, habits and socio-political infrastructure. Although I created this art about 20 years ago, it reverberates with today's 'Black Lives Matter' movement.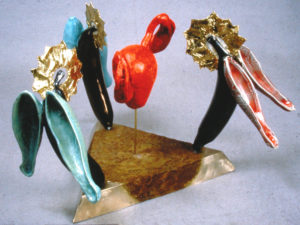 Trinity Contemplating Procreation
Size: 10" h x 16" w x 14" d          Price: $590
Media: Bronze base, slip-cast ceramic bananas & squash (wings), gold leaf, plaster, paint, metal rod.
A triangular, shiny bronze base, embossed/adorned with an old lace cloth, supports three winged phallic figures. These masculine forms, with glowing halos, represent the masculine trinity guards/protects/controls the subject. Their attention converges on the central form, a bright red biomorphic, fiery uterus.  The golden coronas of the winged banana figures, appear like sanctified saw blades, closing in on the female reproductive organ. This piece is an ironic commentary upon contemporary relationships of hierarchy; especially regarding how patriarchal religious institutions attempt to control a woman's body. This remains a contentious issue within the gendered hierarchy of society, always becoming more contentious in a USA election year, as religious stakeholders vie for control.
Size: 14" h x 33" w x 12" d                      Price: $790
Media: Slip-cast clay foot & apples, glazes, wire, wood, earth, glue, gut, rusted wheels, red velvet, etc.
The bird, as spiritual guide, is pulling a cart of white apples, representing Western knowledge; it is going to an unknown destination. White (Caucasian) truth prevailed during colonial rule and continues to pervade major institutions in creating cultural 'truth', that all must abide by: corporations, educational, political, and social institutions, economic structures and systems that affect each human being, are now being resolutely scrutinized.  At this time of great awakening, we recognize what is being / has been destroyed (the environment, health of all life forms), and who suffers (anyone but those at the top of the pyramid). The collapse and shift away from 'white truth' is inevitable.  It will take time, fortitude, passion, ingenuity, and patience, founded upon an evolved consciousness, for humans to establish a compassionate new world order, but all is possible.  We begin with our imagination.  What will those white apples of truth be replaced with?  I would contend a grouping of multi-colored varieties, which occupy harmonious space together – beautiful in their unique individuality, and congruent within the natural environment.
You can see details and purchase these works (and more sculptures) from my website; click on the image or title of each above, or on the sculpture page of the website here.  If you have any questions, please email or call – I'd be happy to set up a showing date with you for looking at any of my artworks.   As always, I so appreciate you forwarding this to anyone who you think might resonate, using the quick links below.  Blessings to you.