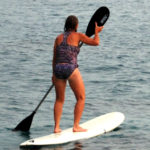 During high school, I was the only girl in the 'Outdoors Club'; I participated in canoe / portaging / camping trips on weekends and a week long trip. I built a canoe when I was 15 years old, under the guidance of the club's leader. Clearly I was a native American in many past lives. The honoring of the earth, elements and directions were innate. Water soothes my fiery nature.  Here I am desperate to SUP (Stand Up Paddle Board) on the Hawaiian ocean; ever resourceful, I used the only paddle available (2 bladed for a kayak) and a surfboard.  LOL
Drawn to both art and nature, I studied biology at university; I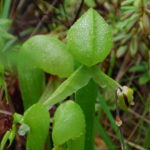 worked in the field of freshwater ecology research for 10 years. I also guided outdoor adventure trips, primarily week long canoe expeditions in Eastern Manitoba, western Ontario, and in the Boundary waters of northern Minnesota.  I've always loved weird and wonderful plants: this is a pitcher plant (Daytonia), I witnessed on a N. California coast trip. Plants heal and inspire joy through beauty and fragrance.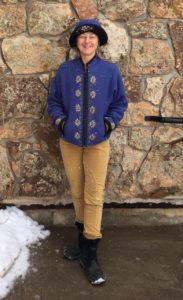 I'm pretty fearless, so when my girlfriend and I were held up at gunpoint by a stocking over the head fellow, one dark night in Lima, Peru, I instinctively yelled 'NO', turned on my heels, and walked away. My girlfriend, teetering in the momentary shock, followed suit.  We escaped that crazy guy, who purportedly wanted our clothes.  Although a frightening experience, upon reflection, I was saddened by his obvious mental imbalance; he was clearly a man wanting to be a woman, in a culture of denial and subjugation of such souls.
I love to travel, and be in different cultures; in my late 20's, I experienced a bad car/bike accident (I was on the bike);  I interpreted this as a wake-up call, and shifted to studying art.  After attaining a second undergraduate degree, this time in Fine art, I traveled around the world for 13 months with a backpack on my back.  Although I was by myself, I was rarely alone.  It was an education that surpassed any institution, in my self and worldly revelations.  The world is such a magnificent place.  Then I returned to university to acquire an MFA, (Masters in Fine Art – studio), at the University of AZ – that is what brought me to the USA.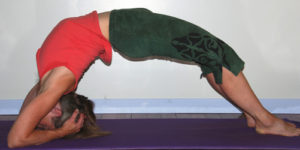 I've been teaching and running a yoga studio since 2002, helping people through classes and yoga therapy; exploring the rich traditions of yogic philosophies and life style. These traditions enrich the content of my art, as have the teachings of the mystical knowledge at the heart of all spiritual traditions.  I now offer online yoga and lifestyle courses.  Interested?  Click here.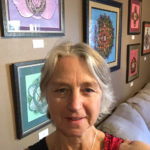 I experienced a 20 year learning adventure as a mom and wife, and now that my son is striking off on his own, (and me too!), I have returned to my art studio with inspiration and boundless creative energy.  My intention is to find a tribe that love both yoga and art, as a path to enlightened living.